Black Design in Am

erica

: African Americans and
the African Diaspora
in Graphic Design
19th CENTURY – 21st CENTURY
Black Design in America is the first in a series of BIPOC Centered design history courses facilitated by
Polymode.
Through recorded lectures, readings, and discussions, the class sheds light on moments of oppression and visibility. The series revisits and rewrites the course of design history in a way that centers previously marginalized designers, cultural figures—and particularly BIPOC and QTPOC people.
The classes include the ancient origins of African alphabets, innovative mathematics in African architecture, systemic racism of the transatlantic slave trade, W.E.B. Du Bois's innovative information diagrams in 1900, the aesthetics of Eugenics and its science of racial profiling, the Harlem Renaissance and other queer Blackness, The Tuskegee Syphilis Study that exploited vulnerable veterans supervised by the U.S. Public Health Service, the grassroots network of Victor Hugo Green's Motorists books, Blues Modernism, the rise of hip hop's graphic language, urgent protest graphics of Black Lives Matter movement, and the 21st century data activism of the collective Data for Black Lives.
Watch the Black Design in America trailer.
Web site offerings are intended for use by
individual-purchasers only — no group or
institutional use.
Licenses for institutional use are available and customizable to fit your needs. Contact us at
class@bipocdesignhistory.com
to provide your students, employees, and designers with access to our BIPOC Design History Course.
Afrikan Alphabets & African Diasporic Design Lineage
SAKI MAFUNDIKWA
Counter to colonial notions of the savage or primitive African, there is a complex, rich and multi-cultural history of African design. From the research of graphic designer Saki Mafundikwa on Afrikan alphabets and graphic languages, this opening video will set the course from African design lineages that travel from the continent to America through the transatlantic slave trade.
Systems of Slavery and White Supremacy

ZIDDI MSANGI with SILAS MUNRO

Slavery was a designed system that expanded into a mechanized and colonial tool of European empires. The proliferation of design products marketed to Africans on the continent, such as the Dutch wax prints of the company now known as Vlisco, have their origins in the Netherlands' imperial presence in Indonesia. These Dutch wax fabrics proliferated mainly in West Africa in countries like Côte d'Ivoire, Ghana, Nigeria, and Senegal. In parallel in the East African countries Kenya, Tanzania, and Uganda, local African designers created Kanga–a community authored cloth garment that speaks cultural norms through distinctive patterns and Swahili phrases typeset in Arabic and Latin Alphabets.


The Kanga's high-quality cloth was printed with resist, block, or hand-painted African visual language on bolts of fabric steam milled in Massachusetts made from white cotton picked in the Carolinas. The enslaved Africans in the insidious Trans-Atlantic Slave Trade labored to produce the cotton as a commodity sold back to Africans in a system designed to enslave black bodies.




Designing Emancipation
PIERRE BOWINS
From the early 1830s to the signing of the Emancipation Proclamation outlawing slavery in 1863, Boston was the center of the American anti-slavery movement. Organizations such as the Massachusetts Anti-Slavery Society posted broadsides throughout the city to publicize the day's events and advocate for the freedom of slaves. These single-sheet notices were printed in large, bold lettering and often contained quotations from the Bible, the Constitution, and the founding fathers. These sources gave legitimacy to the movement and a significant visual record of Black freedom in the Antebellum Era.
Freedom's Journal was the first African-American owned and operated newspaper published in the United States established in 1827—the year slavery was abolished in New York State and served as a counter to the racist commentary published in the mainstream press. The Journal was founded by Rev. Peter Williams, minister of the largest predominantly Black Episcopal Church in New York City and an abolitionist. They also supported free Black emigration to Haiti. Frederick Douglass's first abolitionist newspaper, The North Star, first published on December 3, 1847, was named after the bright star, Polaris, which helped escaped slaves to navigate the Underground Railroad. Douglass, a former slave, and freedom seeker would go on to become one of the most visible forces in the burgeoning abolitionist movement. Sojourner Truth, an illiterate but eloquent former slave, would be mentored by Douglass and go on to deliver an iconic 1851 speech entitled
Ain't I a Woman?
that advocated both for racial equality and women's suffrage. Inspired by Douglass, Truth's photographic likeness would become a form of visual rhetoric that depicted the poise and human dignity of two superstars of the abolitionist movement.
Blackface and Minstrelsy Tradition
KELLY WALTERS
This lecture will explore a brief history of Black representation as it appears in music publishing during the late 19th to the early 20th centuries. Following Emancipation, White entertainers and musicians adopted Black stereotypes into minstrel show performances. Minstrel shows were a form of popular entertainment that typically included racist blackface depictions and derogatory caricatures. In the Reconstruction and Post-Reconstruction eras, we begin to see how white supremacy influenced the way Black people were represented in the realm of entertainment. Visual examples like Stephen Foster's Massa's in de Cold Ground (1852) or White, Smith & Co.'s I'se Gwine Back to Dixie (1874) will highlight the ways American popular music emerged and Black culture became intertwined.
Black Data:
W.E.B. Du Bois and Data Visualization

JASON FORREST
with
SILAS MUNRO
Known for being a prolific author, renowned sociologist, fierce civil rights advocate for people of color, founder of the NAACP, and historian, WEB Du Bois was also a pioneer of data visualization. The American Negro was one initiative of the United States Exhibition to a global audience at the 1900 Exposition Universelle in Paris. Du Bois was part of a collective of black intellectuals and professionals who contributed to a multidisciplinary display representing the best of African American advancement at the turn of the century. A cornerstone of the exhibit was The Georgia Negro, a set of 63 brightly-colored diagrams visualizing a sociological study by Du Bois and his students at Atlanta University. The dataset made arguments in visual form for the equality and sophistication of black Americans. Du Bois and his team generated avant-garde graphics 20 years before the founding of the Bauhaus. Du Bois and his collaborator's work is a prototypical case study of design for social innovation, decolonized design pedagogy, and expanded practice.
Black Queer Stories in Print:
19th Century to the Harlem Renaissance
JON KEY with SILAS MUNRO
In the 1830's The Sun Newspaper ran a story never shared before in print: a man by day and woman by night who was on trial in New York for theft. Mary Jones/Peter Sewally was one of the earliest known public Transgender people. Her story was one of the first black queer narratives documented and shared in printed form in the early 19th century. A few decades later in 1880's D.C. The Evening Star newspaper printed "The Queen is Raided" referring to William Dorsey Swann, the earliest Drag Queens in American history, lavish underground parties overturned by the police. In 1925, Alain LeRoy Locke was asked to be guest editor of an issue of Survey Graphic, the richly designed periodical covering sociological and political issues. The issue, titled "Harlem: Mecca of the New Negro", was Locke's first publication connecting an emerging generation of young black writers, poets, and artists, in what would be known as the Harlem Renaissance. The infamous issue became the basis for the seminal 1925 anthology The New Negro, marking a shift from a focus on Black bodies to Black consciousness and Black thought.
The Great Migration:
Harlem Artists Guild,
and the 306 Group

The harsh impact of Jim Crow laws in the South of the United States triggered a mass exodus of Southern Black Americans to northern cities seeking equality and economic opportunity. Cities like Chicago, New York, and Philadelphia were well known magnets for what is now known as The Great Migration. Less populous cities like Baltimore, St. Louis, and Kansas City also built up thriving Black neighborhoods, though the journey north was not an easy road.
This talk will focus on designers and artists from New York and Chicago, and highlight the work of Charles Alston, Romare Bearden, Jacob Lawrence, Gwendolyn Knight, Louise E Jefferson, that form a multi-generational network of Black Excellence.
Strikethrough:
Typography Messages of Protest for Civil Rights

COLETTE GAITER

In the 1960s and 1970s of this country, everyday activists took to the streets with placards in their raised arms with urgent messages made visible in typographic form.

This selection of protest graphics will focus on a Black experience. However, the Civil Rights movement represented and inspired diverse protest movements with wide-ranging socio-economic, racial, geographic, and class hierarchy origins. From Emory Douglas' prolific body of Black Panther publications, countless graphics from the 1963 March on Washington for Jobs and Freedom, the iconic "I AM A MAN" poster, many known and unknown makers used graphic design to advocate for Black equality.
Iterative Identity:
Art Deco, World's Fair, and American limits on humanity

OMARI SOUZA
One of the key promises of the American Dream made by the automobile industry in the 1930s–1950s was the individual freedom of a car owner on an open road. This was marketed with innovations in advertising, exhibition design, and product design typified by the term "streamlining," The limited availability of streamlining to Black Drivers was particularly prevalent in the Southern states. Victor Hugo Green, a travel writer and postal worker, saw an opportunity to make "Driving While Black" safer for his fellow Black Americans by publishing his annual Negro Motorist Green Book. Publishing out of his Harlem office, The Green Book was printed annually from 1936 to 1966 and grew from New York City to include the entire United States and international destinations as far away as Mexico and Bermuda.
The discrimination against Black drivers extended to Black homeowners who were restricted from getting quality home loans. Before the 1968 Fair Housing Act was enacted, it was legal for businesses and government entities to discriminate against Black businesses. Similar restrictive conditions were placed on Black Veterans returning from World War I and II. They had been willing to fight and die for an America that wanted to put them "back in their place" upon returning from the European and Asian fronts. Public officials and developers like Robert Moses, who brokered New York City to host the 1939 and 1964 World's Fairs that spread Streamlining propaganda, were also racist in their building and urban planning efforts. One of his initiatives, the Brooklyn-Queens Expressway, divided predominantly Black neighborhoods from public parks and public transportation access. This legacy of urban disenfranchisement was recreated in other U.S. cities like Miami and Los Angeles.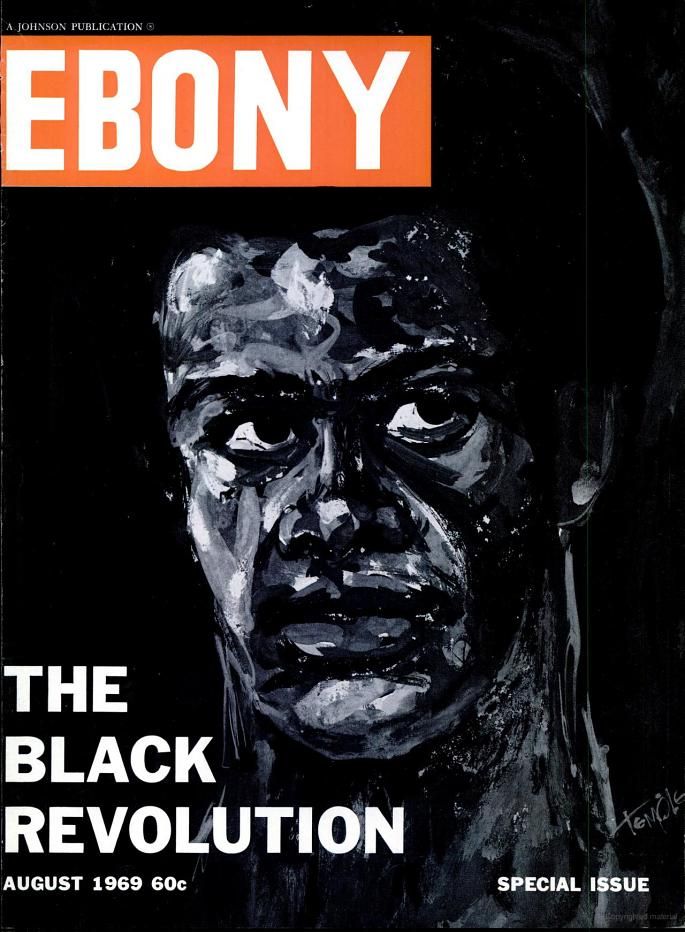 Black Revolutions:
Organizing the Production of Black Design
CHRIS DINGWALL
The cover of the August 1969 issue of
Ebony
declared the age of The Black Revolution. As a commodity, however, the issue of Ebony embodied the ethos of Black capitalism. The flagship publication of the Johnson Publishing Company, was the largest Black-owned company on planet earth in 1969. Reliant on ad sales from the likes of McDonalds and Newports, JPC augured a future for Black design as another market niche in the world of corporate capitalism.
The same year, a group of Chicago-based Black artists and craftspeople formed AfriCOBRA, the African Commune of Bad Relevant Artists, as a way to build a grassroots, cooperative economy for disseminating Black design to everyday Black people autonomous from white-controlled markets.
This lecture surveys the contrasts as well as the connections between Johnson Publishing Company, and
AfriCOBRA
, as models for Black design production. While the corporation and the collective proposed different futures for the meaning and materiality of Black design, they emerged from and built upon the overlapping social networks of Black Chicago, mediating between the values of community and capitalism. This not only shaped their design work but also prepared the ground for future experiments in organizing Black design production today.
Funk, Blaxploitation, & Hip Hop Aesthetics
From the bass heavy riffs of
Curtis Mayfield's SuperFly 1973 soundtrack
to the scratch and synthesized Brox rhythms of 1970s and 1980s DJ's like
Afrika Bambaataa
and Grandmaster Flash—the histories of Black music and Black design have been intermixed. Many scholars have foregrounded Phase 2 and Buddy Esquire's work, two of the most prolific Hip-Hop Flyer Designers.
Similarly in Film, the generative collaboration between Art Sims and Spike Lee that began with the posters such as
Do The Right Thing, 1981
and
New Jack City, 1991
lead to audiences literally breaking down bus shelters to collect the posters. This talk will dig through the crates to show the global influence of Black design.
Behind and Ahead of the Times:Histories and Futures of Black Futurity
LAUREN WILLIAMS
The Black experience(s) in the United States cannot easily be extracted from how we are collectively situated in time: it is shaped simultaneously by the weight of past and present oppressions and the precarity of our futures. White supremacy would have us believe that Black people are "behind the times" economically, socially, and otherwise; time shapes constructions of race and Blackness; our time is literally worth less than others' on the labor market; time is an instrument of carceral punishment; the
time
for justice is never now.
Still, Black folks—designers and non-designers alike—demonstrate an enduring commitment to constructing thriving, expansive Black futures. By troubling the definition of "design," this talk addresses Black futures of yesterday, today and tomorrow, radical imagination, and emergent strategies in Black design, whether acknowledged by the canon or not. From traditions in Black speculative futuring like afrofuturism, to the ubiquitous acts of future-building that Black Americans undertake on a daily basis, to the role of Black designers in mainstream industry, we'll explore the ways in which Black folks have troubled this liminal time-space we occupy through design and explore the implications of that lineage for the future of Black design.
Radical Design Pedagogy:
Towards an Autochthonic Black Aesthetic for Graphic Design Pedagogy
AUDREY BENNETT
Since Cheryl D Holmes Miller's 1987
Black Designer's Missing in Action
, there have been far too many calls for increased access and visibility of Black folx in Graphic Design education and the field at large. In 1998, Sylvia Harris offered educators ways to continue
Searching For a Black Aesthetic in American Graphic Design
. We now live in an age of a rising tide of Black Design Pedagogy, where the legacies of Radical, Intersectional Black Feminism. Simultaneously, the recent cluster Black Design Faculty at OCAD University, led by the first Black Dean of Design of any program in the world—
Dori Tunstall
—shows that progress sometimes happens quickly and sometimes slowly. Meanwhile, many Black Design educators have done been doing the work for years. Audrey Bennet brings an update to her Towards an Autochthonic Black Aesthetic for Graphic Design Pedagogy that brings us back to this course's beginning. Her work shows that by studying the ethnomathematics of African design, art, and architecture, as seen in the research on
African Fractals by Dr. Ron Eglash
, we can shift the underlying cultural grids of design education. This talk offers strategies and examples 0f educators and designers who are drawing inspiration from Black cultural aesthetics.